The Geography of Greenland
Greenlandic Geography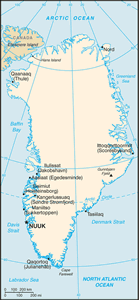 Greenland Map
Location: Northern North America, island between the Arctic Ocean and the North Atlantic Ocean, northeast of Canada
Geographic coordinates: 72 00 N, 40 00 W
Map references: Arctic Region
Area: total: 2,166,086 sq km land: 2,166,086 sq km (410,449 sq km ice-free, 1,755,637 sq km ice-covered) (2000 est.)
Area - comparative: slightly more than three times the size of Texas
Land boundaries: 0 km
Coastline: 44,087 km
Maritime claims: territorial sea: 3 nm exclusive fishing zone: 200 nm or agreed boundaries or median line continental shelf: 200 nm or agreed boundaries or median line
Climate: arctic to subarctic; cool summers, cold winters
Terrain: flat to gradually sloping icecap covers all but a narrow, mountainous, barren, rocky coast
Elevation extremes: lowest point: Atlantic Ocean 0 m highest point: Gunnbjorn 3,700 m
Natural resources: coal, iron ore, lead, zinc, molybdenum, diamonds, gold, platinum, niobium, tantalite, uranium, fish, seals, whales, hydropower, possible oil and gas
Land use: arable land: 0% permanent crops: 0% other: 100% (2005)
Irrigated land: NA
Natural hazards: continuous permafrost over northern two-thirds of the island
Environment - current issues: protection of the arctic environment; preservation of the Inuit traditional way of life, including whaling and seal hunting
Environment - international agreements:
Geography - note: dominates North Atlantic Ocean between North America and Europe; sparse population confined to small settlements along coast; close to one-quarter of the population lives in the capital, Nuuk; world's second largest ice cap
The information here has been derived from Public Domain Sources such as the CIA World Factbook. No liability can be taken for any inaccuracies. You can use the maps, flags and facts presented here however you choose.