The Geography of New Caledonia
New Caledonian Geography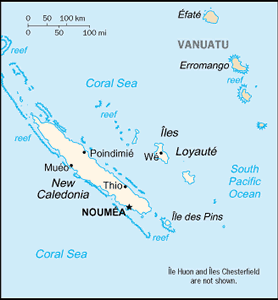 New Caledonia Map
Location: Oceania, islands in the South Pacific Ocean, east of Australia
Geographic coordinates: 21 30 S, 165 30 E
Map references: Oceania
Area: total: 19,060 sq km land: 18,575 sq km water: 485 sq km
Area - comparative: slightly smaller than New Jersey
Land boundaries: 0 km
Coastline: 2,254 km
Maritime claims: territorial sea: 12 nm exclusive economic zone: 200 nm
Climate: tropical; modified by southeast trade winds; hot, humid
Terrain: coastal plains with interior mountains
Elevation extremes: lowest point: Pacific Ocean 0 m highest point: Mont Panie 1,628 m
Natural resources: nickel, chrome, iron, cobalt, manganese, silver, gold, lead, copper
Land use: arable land: 0.32% permanent crops: 0.22% other: 99.46% (2005)
Irrigated land: 100 sq km (2003)
Natural hazards: cyclones, most frequent from November to March
Environment - current issues: erosion caused by mining exploitation and forest fires
Environment - international agreements:
Geography - note: consists of the main island of New Caledonia (one of the largest in the Pacific Ocean), the archipelago of Iles Loyaute, and numerous small, sparsely populated islands and atolls
The information here has been derived from Public Domain Sources such as the CIA World Factbook. No liability can be taken for any inaccuracies. You can use the maps, flags and facts presented here however you choose.